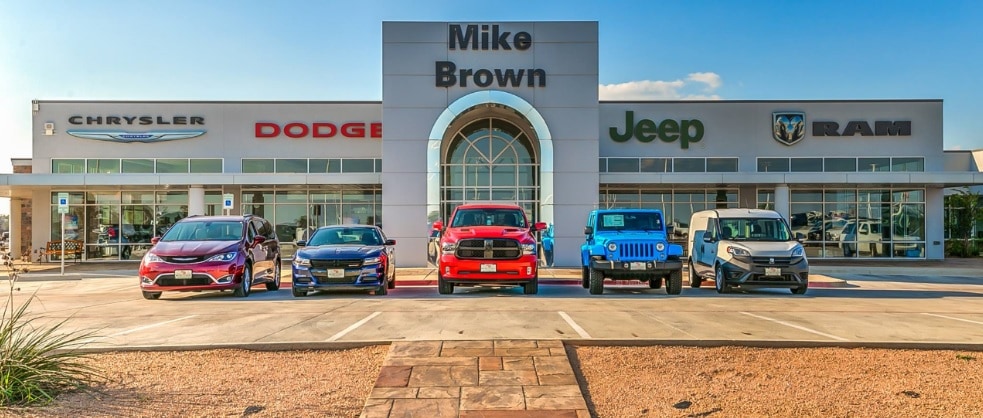 Looking for a Dodge Dealer in Weatherford TX? Check out Mike Brown that is just 30 minutes away first to get the best deals in all the state! We are a small, family owned dealership that treat our customers with care and respect. We pride ourselves in our customer service and giving out the best deals than anyone else not just in the area, but the entire state of Texas. How do we offer the best deals possible? We are glad you asked! First of all, big city dealerships have tons of overhead they have to account for with each of their deals in order to pay all their employees and keep their lights on. It is because of this, they have to make more on their vehicle sales just to keep the doors open; this is a problem we don't have since we are not in the "big city" environment. Small town dealerships have the exact opposite problem where they don't have the overhead, but don't sell as many cars as big city dealers. Because they sell much less volume, they once again need to make more money on their sales to keep their doors open. Add to both those types of dealerships the fact that they also have to be profitable and you can see where you have to pay more. This is not the case here at Mike Brown, read the next section to find out why that is.


Here at Mike Brown, we are the perfect option if you are looking for a Dodge Dealer in Weatherford TX because we are an auto group of three dealerships, which coincidentally is the perfect size to get the best of both small town and big city worlds...but with none of the problems. We are big enough that we make the volume needed to maximize your savings on every vehicle sold! We don't have to make more on our cars because we only sell just a hand full of them, and we don't have that huge overhead like big cities have. This is great news for you because you know when you come here, you are going to save money both up front and at the monthly payment level! We offer the first 3 months with no payments if you need a vehicle payment break (with approved credit) along with several other offers always coming up throughout the year. We also have other things here that you are sure to love! What do we mean by that? The next section on the page will go into that more.


One thing we have found out from our customers that have looked for a Dodge Dealer in Weatherford TX is vehicle customizations for not just Dodge, but all our brands. We have a couple pages here to show you some of what we can do with Truck and Jeeps, but that is just the tip of the iceberg. We can customize cars and SUVs as well in order to really make the vehicle feel like your own. Tinted windows, wheels and tires, spoilers, flares, visor strips, and the list goes on. Anything you can think of we can add into your amazing deal then finance it so you are not out of pocket thousands of dollars more, just spend a little extra on a payment and get your very own customized ride! Mike Brown is the best option for anyone searching for a Dodge Dealer in Weatherford TX or anywhere else in the state for that matter, contact us today and we will show you what makes us the best!